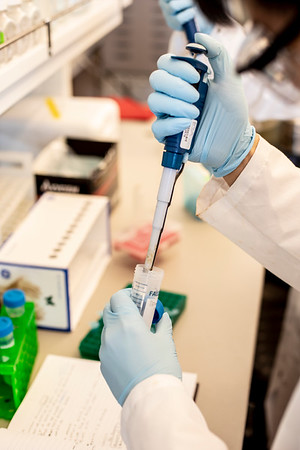 UW EXCELLENCE IN RESEARCH
2017 Immunology No4 worldwide and UW No9 (Center for World University Rankings)
2016 No11, Best Global University Rankings (U.S. News)
2015 Most innovative public university, fourth overall (Reuters)
Research Training
Year 1: Clinical training
Years 2 & 3 (3rd year is optional for those pursuing an academic career): Focused research training and continuity clinics
You Choose 
AI fellows choose among any relevant research laboratory throughout the UW system and affiliated institutions. Upon choosing a laboratory, the fellow will prepare a written research plan and establish a mentoring committee. The mentoring committee will assist in monitoring research progress and oversee the preparation of abstracts/presentations/manuscripts and additional aspects of career planning for the fellow. Fellows present new research data at regional, national or international meetings and publish these new data in peer-reviewed publications.
Research Training Sites
Fellows perform research studies at one or several of the major research training sites affiliated with the program.
South Lake Union
Collaborative research is a hallmark of these training sites. Researchers at UW Medicine's continually expanding biotechnology and medical research hub in the South Lake Union (SLU) neighborhood of Seattle are working to develop life-changing therapies. Now housing over 1,200 scientists and support staff, the SLU complex is cutting-edge in researching areas that include Allergy and Inflammation, Immunology, Lung Biology, Metabolomics, Proteomics, and Regenerative Medicine.
Seattle Children's
At the Seattle Children's Hospital Research Institute in downtown Seattle, the Center for Immunity and Immunotherapies (CIIT) programs include cellular therapeutics that supports current cellular therapeutic approaches, including hematopoietic stem cell transplantation and ongoing research to provide novel cellular therapies to patients with immunologic disorders, as well as gene therapy and repair that develops preclinical and clinical gene therapy protocols to treat primary immunodeficiencies and other disorders.
Benaroya Research Institute
The Benaroya Research Institute leads the Immune Tolerance Network (ITN), a collaborative network for clinical research, funded by the National Institute of Allergy and Infectious Diseases. A major focus of the ITN is the development of therapeutic approaches for asthma and allergy that lead to immune tolerance. 
Seattle Allergy & Asthma Research Institute (SAARI)
Fellows may also participate in translational clinical research studies at Seattle Allergy & Asthma Research Institute in Seattle that investigates new treatments in allergy, asthma, and immunology.
Research Collaboration With Seattle Food Allergy Consortium (SeaFAC)
Seattle Food Allergy Consortium members are the major training sites of the UW Allergy & Immunology Fellowship Program. The SeaFAC vision is to bring together clinical expertise in food allergy, basic science research capabilities, and community participation within Seattle and the Northwest region with the following goals:
Define molecular immunopathogenesis of food allergy
Develop and test novel and effective therapies:

VIPES Study – Peanut Desensitization to Test Efficacy and Safety of Viaskin Peanut Patches & Follow-up VIPES Study
Efficacy and Safety of Viaskin Milk in Children With IgE-Mediated Cow's Milk Allergy (MILES)
Peanut Allergy Oral Immunotherapy Study of AR101 for Desensitization in Children and Adults (PALISADE) 
Multi Immunotherapy to Test Tolerance and Xolair (M-TAX)

Create Seattle Children's Food Allergen Challenge Clinic (launched November 2014)
UW Allergy and Immunology Fellows gain expertise in basic and translational clinical research in food allergy via collaboration with SeaFAC investigators and participate in the Seattle Children's Food Allergen Challenge Clinic during year two of fellowship.
Research mentors
Matthew Altman, MD (Assistant Professor of Medicine) focuses on a systems biology approach to identifying modular repertoires of immune responses.

Andrew G. Ayars, MD (Associate Professor of Medicine) performs translational clinical research on asthma rhinosinusitis and other allergic disorders.
Maria Teresa de la Morena, MD (Professor of Pediatrics) focuses on primary immune deficiency diseases (PID), autoimmunity, transplantation (both lung and hematopoietic cell transplantation) and HIV infection.
Teal S. Hallstrand, MD, MPH (Associate Professor of Medicine) studies the pathogenesis of asthma through translational human studies as well as in vitro models using primary human cells and selected in vivo models.
William Henderson, MD (Professor of Medicine) focuses on genomic studies addressing whether unique miRNA expression signatures may be used as diagnostic or prognostic clinical tools in allergy.
William Kwok, PhD (Member, Benaroya Research Institute; Affiliate Associate Professor of Medicine) studies allergen-specific CD4

+

 T cell responses in immunopathogenesis of allergic disorders using HLA class II tetramers.
Hans D. Ochs, MD (Professor of Pediatrics; Jeffrey Modell Endowed Chair in Pediatric Immunology Research) focuses on the molecular basis of Primary Immune Deficiency Diseases with special interest in genes linked to Wiskott Aldrich, Hyper IgM, X-linked Agammaglobulinemia, IPEX, and Autosomal Recessive Hyper IgE syndromes.
Daniel Petroni, MD, PhD (Clinical Assistant Professor of Medicine, Co-Director of SAARI, CRC and Seattle Food Allergy Research Center) conducts translational clinical research studies in patients with food allergy, chronic idiopathic urticaria, drug allergy, and asthma.
Adrian M. Piloponsky, PhD (Assistant Professor of Pediatrics) studies inflammatory responses involving mast cells and myeloid cells.
David J. Rawlings, MD (Professor of Pediatrics, Adjunct Professor of Immunology, Director, Center for Immunity and Immunotherapies, Seattle Children's Research Institute) investigates dysregulated B cell development and signaling leading to immunodeficiency, autoimmunity or lymphoid malignancies, and the development of gene therapy for primary immune deficiency diseases.
Erik Wembre, MD (Assistant Member, Benaroya Research Institute; Affiliate Associate Professor of Medicine) focuses on providing in depth immune monitoring of antigen-specific T cell responses in allergy.
Steven F. Ziegler, PhD (Member and Director, Immunology Program Benaroya Research Institute, Affiliate Professor of Immunology) investigates FoxP3 and control of CD4

+

CD25

+

 regulatory T cell development/function and the role of thymic stromal lymphopoietin (TSLP) in asthma and other allergic diseases.
Research Projects
Allergic inflammation
Immunopathogenesis of asthma and allergic disorders
Adaptive and innate immune responses
Aspirin-exacerbated respiratory disease
Food allergy
Drug allergy
Tolerance and autoimmunity
Developmental immunology
Molecular immunology focusing on molecular mechanisms involved in generating and regulating immune responses
Epigenetic mechanisms for regulating expression of genes involved in immune responses
Primary immunodeficiency diseases
Research Projects Completed by Fellows
Heme oxygenase-1 deficiency presenting with interstitial lung disease and hemophagocytic flares (Chau A, 2021)

When long-standing hives are not chronic spontaneous urticaria (Dunn CL, 2021)

Use of omalizumab for management of idiopathic anaphylaxis: A systematic review and retrospective case series (Aukstuolis K, 2021)

Unique basophil microRNA signature in chronic spontaneous urticaria patients who respond to omalizumab (Al-Shaikhly T, 2019)

Extracellular vesicle microRNAs as predictors of response to omalizumab in chronic spontaneous urticaria (Al-Shaikhly T, 2019)

Hyper IgE syndromes: clinical and molecular characteristics (Al-Shaikhly T, 2019)

Omalizumab for chronic urticaria in children younger than 12 years (Rosenthal J, 2019)

Relationship Between the Location of Eosinophils in the Airway Wall, Type-2 Gene Expression, and Airway Hyperresponsiveness in Asthma (Al-Shaikhly T, 2019)
Type-1 Interferon and Th2-Type Gene Expression Responses and Childhood Asthma (Rosenthal J, 2019)
Interferon response to respiratory syncytial virus by bronchial epithelium from children with asthma is inversely correlated with pulmonary function (Altman M, Parker AR, 2018)
Targeted Gene Editing Restores Regulated CD40L Function in X-linked Hyper-IgM Syndrome (Hagin D, 2018)
Hematopoietic Stem Cell Transplantation in Patients with Gain-of-Function Signal Transducer and Activator of Transcription 1 Mutations (Hagin D, 2018)
DOCK8 Regulates Fitness and Function of Regulatory T Cells Through Modulation of IL-2 Signaling (Hagin D, 2017)
Relationship Between Th2 Gene Mean Expression in Sputum Cells, Mast Cell Infiltration of the Airway Wall, and Airway Hyper-responsiveness in Asthma (Long S, 2016
Safety and feasibility of oral immunotherapy to multiple allergens for food allergy (Winterroth L, 2014)
A narrow repertoire of transcriptional modules responsive to pyogenic bacteria is impaired in patients carrying loss-of-function mutations in MYD88 or IRAK4 (Altman M, 2014)
Exercise-induced vocal cord dysfunction and exercise-induced laryngomalacia in children and adolescents (Ayars A, 2013)
Sputum hyaluronan and versican in severe eosinophilic asthma (Ayars A, 2013)